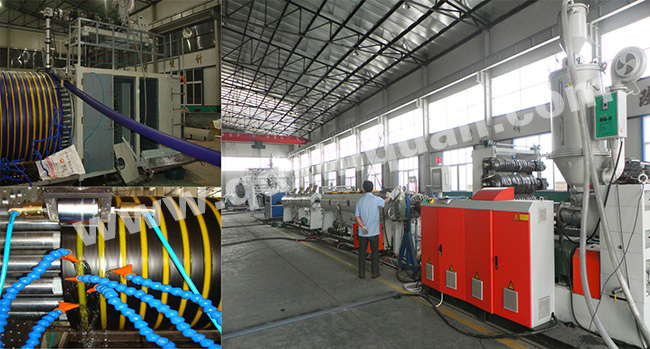 HDPE large diameter hollow wall winding pipe (underground sewage pipe) production line
1. Features of the production line:
The main machine of the production line adopts a double-stage decompression screw with special components for promoting mixing and plasticizing. With the cooperation of high torque and high temperature control accuracy, it is guaranteed that all recycled materials can be used for production. Two-machine combined feeding, spiral rotation molding, and efficient compounding process ensure high product quality. Using special plastic-steel compounding technology, the pipe material is compounded reliably and the performance of the pipe material is enhanced. Using an adjustable extrusion frame, the operation is convenient and flexible. Adopt PLC automatic control system, reliable performance and easy maintenance.
2. Pipe features:
The pipe ring has high rigidity, light weight and low cost; good interface sealing performance; acid and alkali resistance, no corrosion, long service life and convenient construction. Application areas: urban buried drainage, sewage pipes.
3. Main technical parameters:
model
Pipe diameter

(mm)

Maximum output
(kg/h)
Dimensions
(LXWXH)(m)
SG-800
Φ200-800
280
8X20X2.6
SG-1200
Φ600-1200
500
10X23X2.7
SG-1500
Φ1000-1500
600
28X18X6
SG-2000
Φ1500-2000
700
30X20X7
SG-3000
Φ2000-3000
800
32X20X8