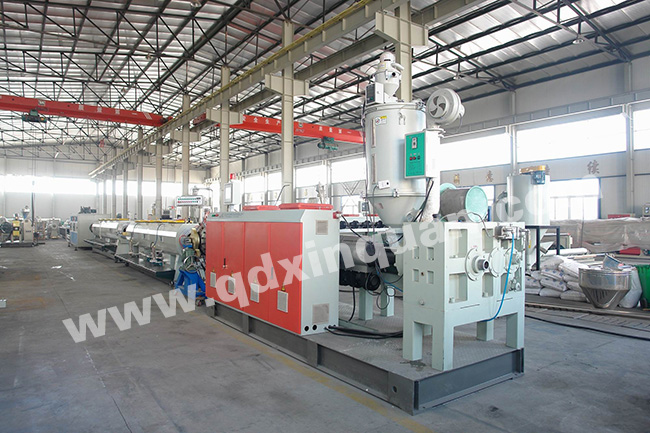 PPR, PP, PE Single Layer or Multi-layer Pipe Co-extrusion Production Line
1. PP-R, PP, PE single-layer or multi-layer water supply pipe features:
In current construction and installation projects, PE, PP, PPR pipes (pieces) are mostly used for heating and water supply. Its advantages are convenient and quick installation, economical, environmentally friendly, light weight, hygienic and non-toxic, good heat resistance, corrosion resistance, good thermal insulation performance, long life and so on.
2. About the production line:
The extruder is controlled by PLC or temperature control instrument, the temperature control is accurate, and the plasticizing quality is effectively guaranteed; the special screw design ensures high efficiency and high output; the helical gear design with high hardness and low noise brings reliable and stable extrusion performance and long service life.
The diverter of the pipe die adopts spiral distribution type or blue type diverter. The large flow space ensures sufficient residence time of the melt; the internal stress in the pipe is small, and the inner and outer surfaces are smooth; the die design has high flexibility and is suitable for co-extrusion of all polyolefin materials (two-layer, three-layer, four-layer) forming. The multi-layer pipe is a newly developed equipment of our company in recent years, such as the three-layer pipe, the inner and outer layers are pure raw materials, and the middle layer is recycled plastic and glass fiber material, which effectively improves the toughness and strength of the pipe and reduces the product production cost.
3. Technical parameters:
Pipe unit model
SJG315
SJG-450
SJG-630
SJG-800
SJG-1200
Pipe range
mm
90-315MM
110-450
250-630
400-800
630-1200
Tube form
A
ABA
A
ABC
A
ABA
A
ABA
A
ABA
extruder
SJ100
SJ90/75
SJ120
SJ100/75
SJ120
SJ120/90
SJ150
SJ120/100
SJ165
SJ150/120
Production capacity
kg/h
200-400
250-450
250-450
300-500
300-500
400-600
600-1000
600-1100
600-1200
800-1300
Total installed power
KW
200
250
250
300
300
350
400
450
500
600