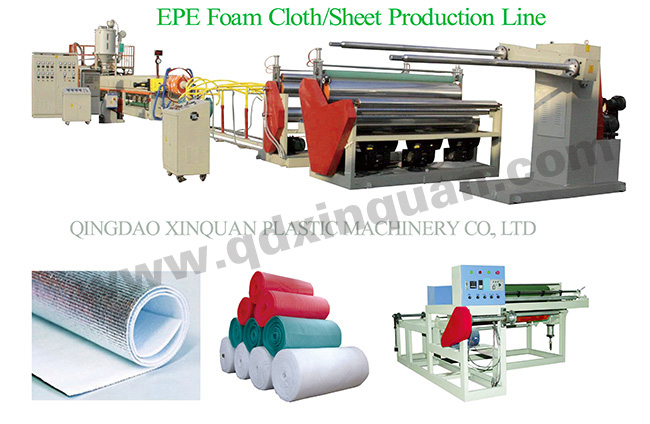 EPE foam cloth production line
1. Application of EPE foamed cloth 
Polyethylene foam cloth is also known as pearl cotton. Pearl cotton is a new type of packaging material. Compared with traditional materials, it has better performance, low cost, high grade and beautiful appearance. It is an ideal substitute for traditional packaging materials. Pearl cotton is widely used in Packaging of household appliances, precision instruments, bicycles, polyurethane furniture, high-grade leather shoes, glass, high-grade porcelain and other products. According to customer needs, the surface of the foamed cloth can be covered with a film, and the product can be thickened to 100mm with a thickener.
2. Equipment features:
The EPE foaming cloth unit adopts advanced single-machine foaming process, the product has high foaming rate, energy saving and high efficiency, adopts explosion-proof motor, German Siemens frequency conversion speed regulation and Japanese Omron intelligent digital display instrument, automatic control, safe and stable operation, convenient operation, precise Select high-quality accessories at home and abroad, the quality is stable and reliable.
3. Technical parameters
machine type
SM-EPE 90
SM-EPE105
SM-EPE120
SM-EPE150
SM-EPE170
Product width (mm)
1000-1400
1000-1500
1000-2000
1000-2000
1000-2000
Product thickness (mm)
0.5~4.5
0.5~6.5
0.8~8.0
1.0~12.0
2.0~16.0
Yield (kg/h)
80-110
100-150
180-250
350-400
420-500
Screw diameter / aspect ratio
¢90 55:1
¢105 55:1
¢120 55:1
¢150 55:1
¢170 55:1
foaming agent
Butane Butane
Foaming ratio
20-40