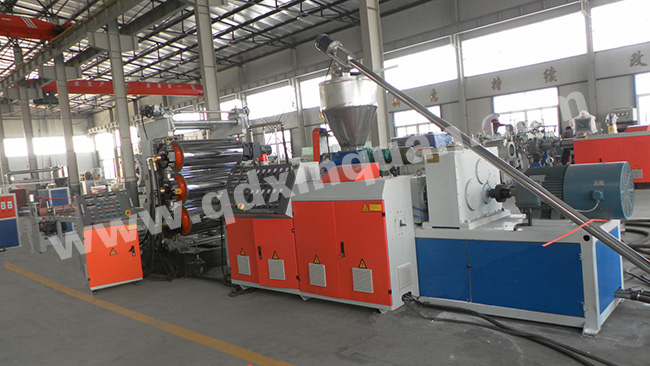 PVC decorative sheet and transparent sheet production line
1. Equipment description:
The screw is designed with special mixing function and high plasticizing capacity.
⊙ The hanger-type die head adopts the design of double throttling for the number of pages, which makes the adjustment of the thickness of the sheet more accurate.
⊙ Temperature control ±1 ℃ can precisely control the plasticizing process and the thickness and shape of the plate.
⊙ The three-roll calender adopts the horizontal, vertical or 45° inclined type, which can be freely raised and lowered according to the different plastics produced, and the product thickness, width and transparency requirements.
⊙ Slicing machine, the plate can be cut to length and the quantity is accurate. The winding table device adopts advanced torque motor, which can adjust the speed and winding tension at will.
2. The products and features that the equipment can produce are as follows:
PVC rigid sheet and PVC flexible board: PVC rigid sheet is widely used in blister packaging of hardware tools, electronics, food, medicine, handicrafts and other high-grade printing; PVC flexible sheet is mainly used for automobile plastic blankets and aisle curtains, Table tops, equipment, luggage, hardware pads, and interior and exterior decoration.
PVC hard board, PVC corrugated board, PVC wall hanging board are mainly used in chemical industry, electroplating, smelting, water treatment, construction and building waterproof materials.
The application field of PVC decorative board line is: interior wall space of hotels, hotels, office buildings, villas, kitchen, bathroom decoration, and can also be used for exterior wall veneer decoration, ceilings, countertops, floors, etc.