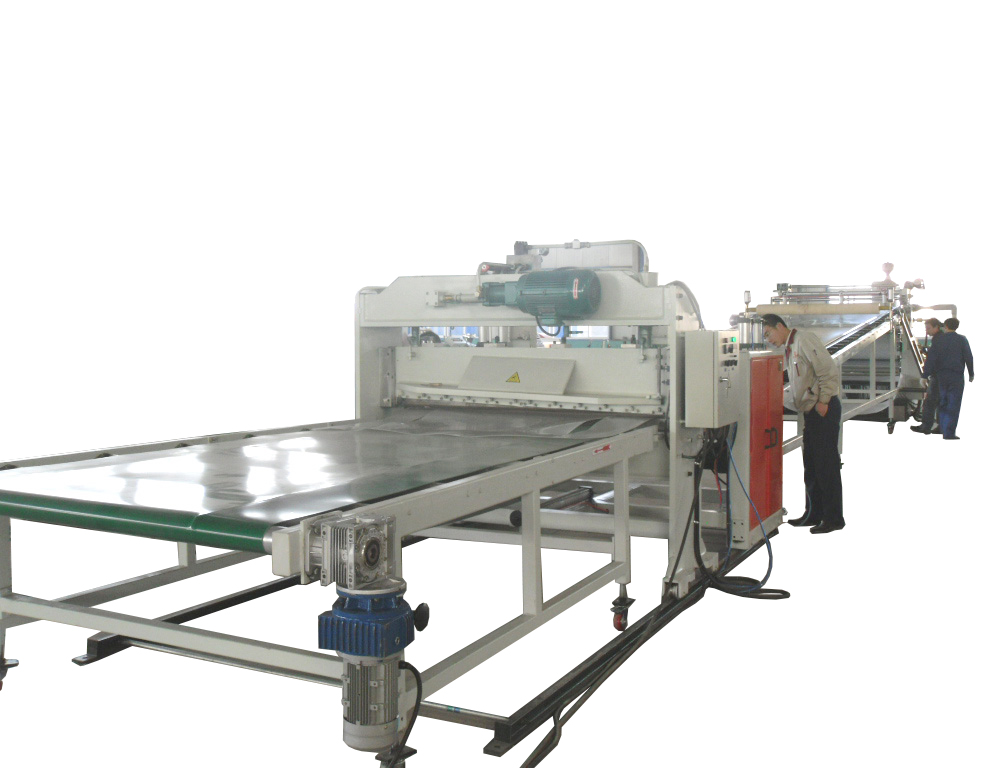 PC,PMMA,PET plastic sheet equipment
1. Product detailed description
The PET transparent sheet production line is designed for APET, PET single-layer or multi-layer sheet, and can also produce PS, PP, PE sheet on the same line. It is a multipurpose machine.
PET sheets (APET, PETG, CPET) have the characteristics of good processability, transparency, barrier properties, non-toxic, odorless, no environmental pollution, and easy to recycle. In terms of food packaging, it is a material that replaces PVC.
2. Device description
This equipment, the technology fully absorbs and digests the extrusion technology, the products selected for the main components (such as screws, barrels, rollers, etc.), the energy consumption, intelligence, automation indicators, safety standards, process standards, etc. of the complete set of equipment are all The quality standard of the product has been reached. This series of products has a number of invention and utility model patents, which can replace imported equipment, but have cost-effective advantages.
The products produced are widely used in optical, home appliances, construction engineering, decoration, furniture, advertising, handicrafts and other industrial and civil industries. The quality has reached the performance of the product, and we have a matching team of expert process engineers to help users debug, produce high-quality products, and meet the technical requirements of daily production!
3. Technical parameters:
PET, APET

PMMA, PC

Main extruder diameter

120mm

130mm

75mm (twin screw)

120

130

Main extruder aspect ratio

33:1

33:1

44:1

36:1

36:1

Main extruder drive

160kw

200kw

160kw-250kw

185kw

250kw

Co-extruder diameter

65mm

75mm

65mm or 75mm

45mm

45mm

Co-extruder aspect ratio

33:1

33:1

33:1

30:1

30:1

co-extruder drive

37kw

45kw

37kw or 45kw

22KW

22KW

Sheet thickness

0.15mm-1.2mm

0.8-8mm

1.5-10mm

Sheet width

560mm-1500mm

1000-1560mm

1220-2100mm

Maximum extrusion volume

350kg/h

500kg/h

350kg/h-800kg/h

420kg/h

600kg/h

Installed power

250kw

320kw

200kw-400kw

180kw

250kw