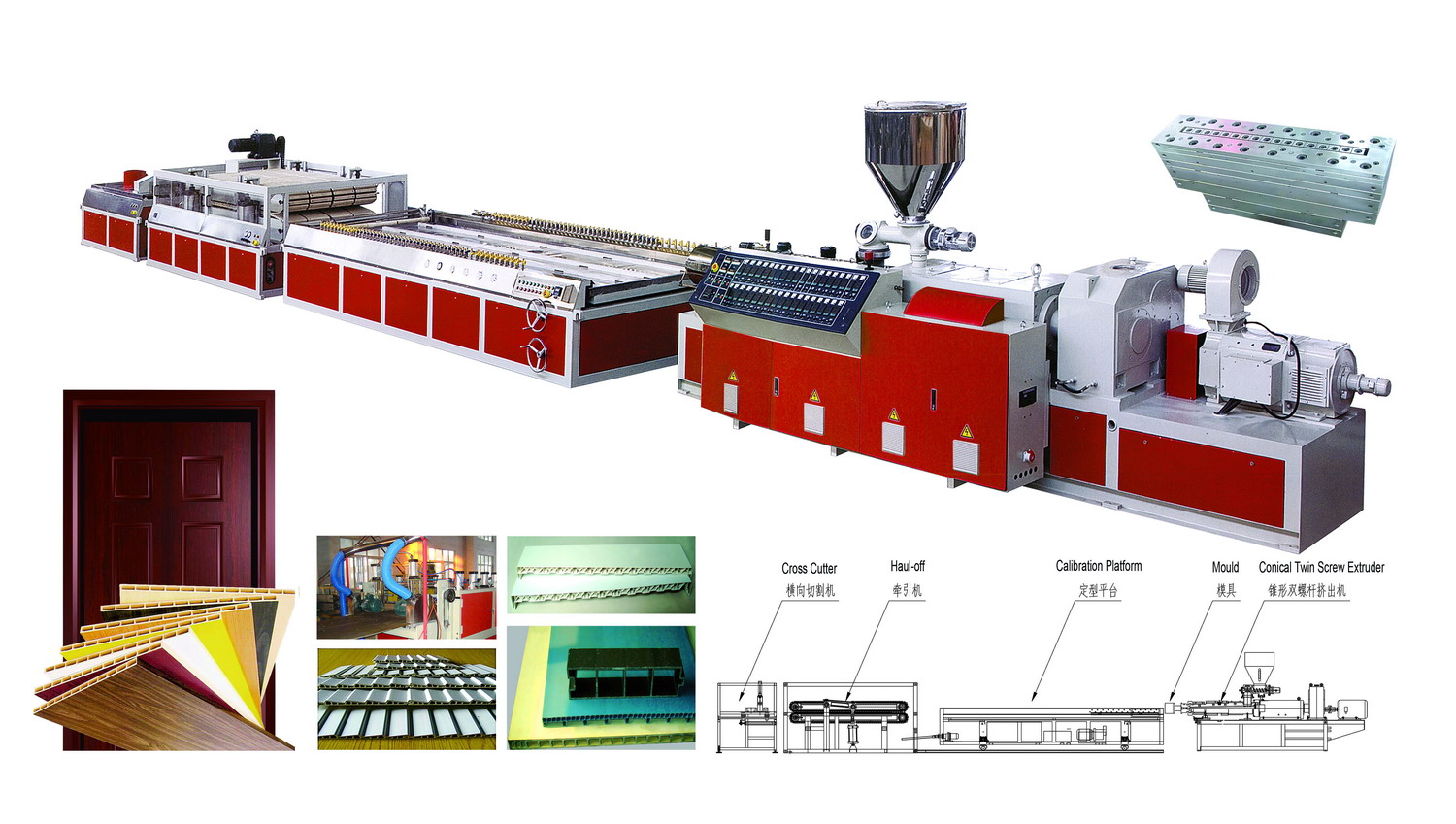 WPC foam door panel and wide panel production line
1. Features of the production line:
The unit adopts specially designed conical twin-screw extruder, adopts DC speed regulation to drive, and imported brand temperature control instrument, which has the advantages of wide speed regulation range, high temperature control precision, convenient and reliable operation, etc. The auxiliary machine consists of a vacuum setting table, a tractor, a cutting machine and a pusher. Equipped with a large forced cooling device to ensure the plate setting effect. The crawler tractor adopts precision reduction motor and frequency converter, which has the advantages of reasonable structure, large traction force and stable traction. The cutting machine has the advantages of reliable and accurate operation and high cutting precision. The pusher frame is equipped with a movable pusher trolley and a special rubber protective layer, which has the advantages of not damaging the material and easy to use. The auxiliary unit adopts programmable computer control or domestic famous brand control system, and the control of the whole machine is reliable and stable.
2. Main technical parameters
| | | | | |
| --- | --- | --- | --- | --- |
| model | YF600 | YF800 | YF1000 | YF1250 |
| Maximum product width (mm) | 600 | 800 | 1000 | 1250 |
| Host model | SJZ 80/156 | SJZ 80/156 | SJZ 92/188 | SJZ 92/188 |
| Maximum extrusion volume (kg/h) | 360 | 360 | 600 | 600 |
| Host power (kw) | 55 | 75 | 110 | 110 |
| Cooling water consumption (m³/h) | 12 | 13 | 15 | 18 |
| Compressed air consumption (m³/min) | 0.5 | 0.6 | 0.8 | 1 |