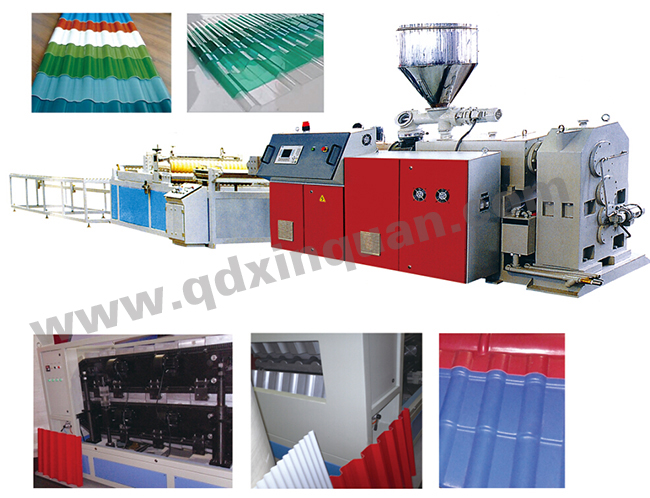 PVC plastic corrugated board, trapezoidal board production line
1. Equipment features:
The plastic extrusion corrugated board unit is composed of conical twin-screw extruder and corresponding corrugated board forming machine, traction auxiliary machine and cutting machine, which can continuously produce UPVC color weather-resistant and flame-retardant plastic corrugated board for construction. Depending on the width and thickness of the corrugated sheet produced, the SJSZ65 conical twin-screw extruder can be selected for narrower sheets, or the SJSZ80/156 conical twin-screw extruder for wider sheets.
The production line has the characteristics of stable plasticizing performance, compact structure, high degree of automation, and easy operation. It is an ideal production equipment for manufacturers.
2. Main technical parameters
Host model
SJSZ-65/132
head form
Hanger type flat head L=1000mm
Cooling die size
1000mm 540mm
Traction power
2.2kw (frequency conversion speed regulation)
forming device
Cooling method: water cooling
Cutting method Shearing type (pneumatic)
big wave
R=15 H=16.5 pitch
Traction speed
Cutting follow distance
wavelet
R=9 H=8 Wave distance 36mm
Traction roller length 1000mm
Working pressure of air circuit: 0.4-0.6MPa
3. Features of PVC wave tile
Strong thermal insulation, sound insulation; leak proof, wind resistance, impact resistance; intentional corrosion resistance; strong fire resistance; high utilization efficiency, green environmental protection; fast installation.
Specification of PVC wave tile Specification
: Width: 930mm, 1130mm
Thickness: 0.8-4mm
Length: according to customer requirements
Color : green, blue, gray, red, yellow, brown
Plate type: trapezoidal, wavy
4. Application range of PVC wave tile
PVC corrugated tiles are mainly used in high-grade roofing materials such as high-grade workshops, steel structure workshops, warehouses, farmers markets, market passages, carports, etc., and can also be used in balconies, heat-insulating sheds and other fields with certain thermal insulation requirements.
5. Product installation requirements
Use a fine-tooth saw to cut PVC
Drill holes can be drilled by hand or mechanical drill. When drilling, there should be support below to avoid shaking. The hole diameter is larger than 50% of the diameter of the screw. When fixing the screw, a special foot pad should be placed under the tile. , not too tight.
The roof truss structure is made of profiled steel or wood. The purlins are required to be flat and not deformed, and the two are parallel to each other with an even span.