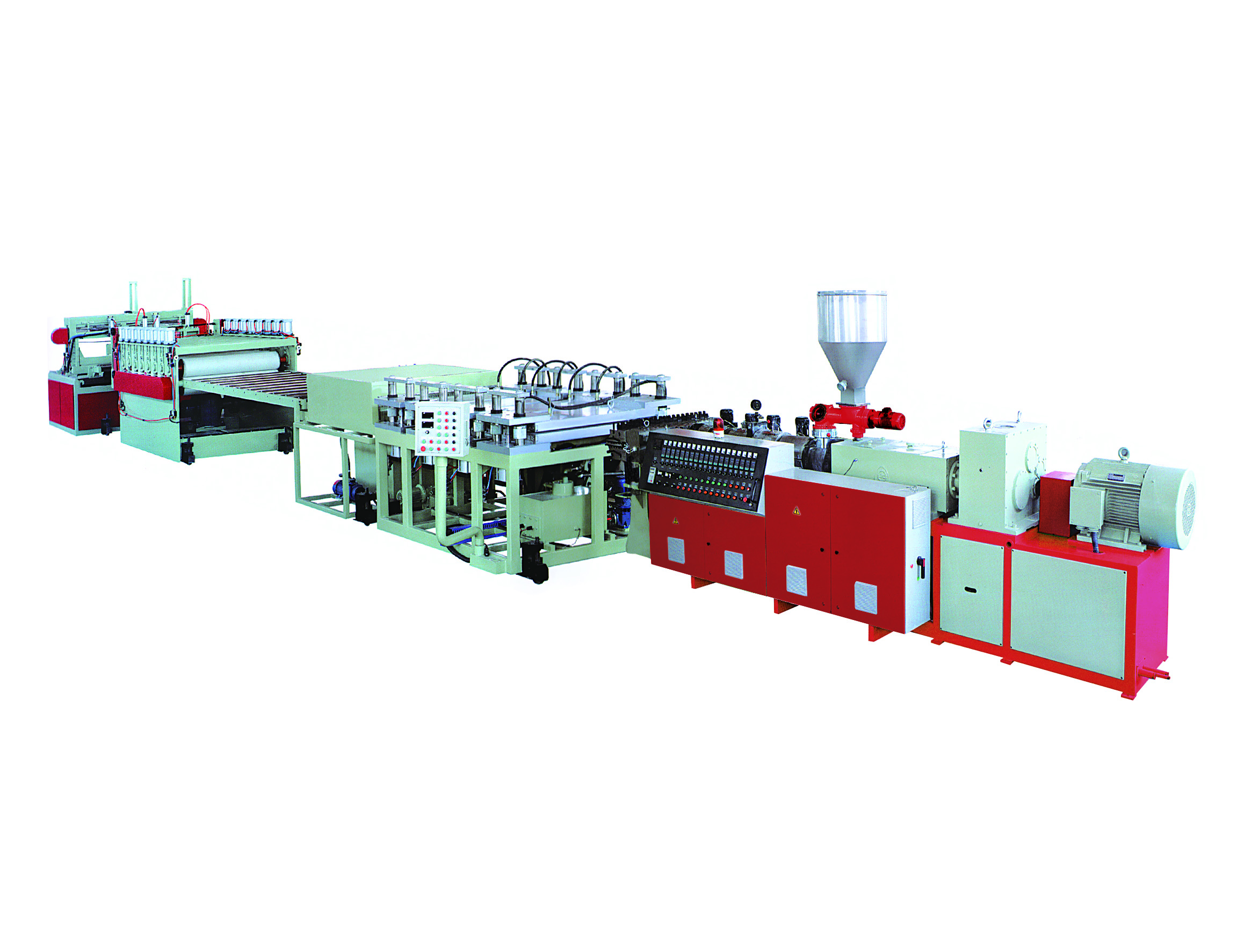 PVC and PVC wood-plastic crust foam board production line
1. Features of PVC and WPC skinned foam board:
PVC wood-plastic crust foam board (building formwork, wood-plastic board) production line is a new type of formwork production line developed by our company according to the needs of today's market, with the purpose of saving energy, utilizing waste, turning waste into treasure, and beautifying the environment. equipment. This production line uses PVC raw materials, waste materials, wood powder, calcium carbonate and other fillers to produce building templates by extrusion process. It is a new template to replace steel templates and bamboo wood plywood. Its advantages are: green environmental protection, anti-corrosion, moisture-proof, moth-proof, not easy to deform, the same processing conditions as wood, recyclable and other characteristics, the application prospect is very broad. It has many advantages, such as low cost, light weight, up to 30 times of continuous use, and waste can be crushed and reused. The biggest feature of PVC wood-plastic skinned foam board is that it is cheap and high-quality, and the source of raw materials is extremely wide. Wood powder is made from discarded miscellaneous wood, which not only beautifies the environment but also turns waste into treasure.
2. Application scope of PVC and WPC wood-plastic skinned foam board:
The use of PVC wood-plastic skinned foam board is quite extensive. Can be used for building formwork, all kinds of stationery boards, furniture, cabinet boards, molds for making de-brick, all kinds of packaging boards, turnover boxes, simple shelves, advertising boards, display boards, commercial shelves, car ceilings , train carriages, ship interiors, etc. The amount used in various fields is huge. Especially in the field of construction, the amount is immeasurable. Characteristics of PVC wood-plastic skinned foam board. Can be placed in the open air (strong weather resistance), strong antibacterial, anti-fog, anti-corrosion, moisture-proof (especially suitable for use in high-rise, underground engineering and humid environments), anti-termite, anti-insect, anti-rat bite, fire prevention, Anti-ultraviolet, insulation, anti-electricity, heat insulation, low water absorption, durable and can be used repeatedly, easy to peel from concrete, no need to use release agent when demoulding.
3. Equipment Features
The unit adopts the specially designed SJZ80 conical twin-screw extruder, adopts DC speed regulation to drive, and imported brand temperature control instrument, which has the advantages of wide speed regulation range, high temperature control accuracy, convenient and reliable operation, etc. The auxiliary machine consists of a vacuum setting table, a tractor, a cutting machine and a pusher. Equipped with a large forced cooling device to ensure the plate setting effect. The crawler tractor adopts precision reduction motor and frequency converter, which has the advantages of reasonable structure, large traction force and stable traction. The cutting machine has the advantages of reliable and accurate operation and high cutting precision. The pusher frame is equipped with a movable pusher trolley and a special rubber protective layer, which has the advantages of not damaging the material and easy to use. The auxiliary unit adopts programmable computer control or domestic famous brand control system, and the control of the whole machine is reliable and stable.
4. Main technical parameters
| | | | | |
| --- | --- | --- | --- | --- |
| model | SJSZ80/156 | SJSZ92/188 | SJSZ80/156, SJ65/132 | SJP92/32 |
| Product width mm | 1220 | 1600 | 1600-2050 | 2050 |
| Product thickness mm | 3-20 | 5-30 | 3-20 | 3-20 |
| Maximum extrusion output Kg/h | 350 | 500 | 600 | 450 |
| Main motor power KW | 75 | 110 | 120 | 75 |
Remarks: The above specifications are subject to change without notice.