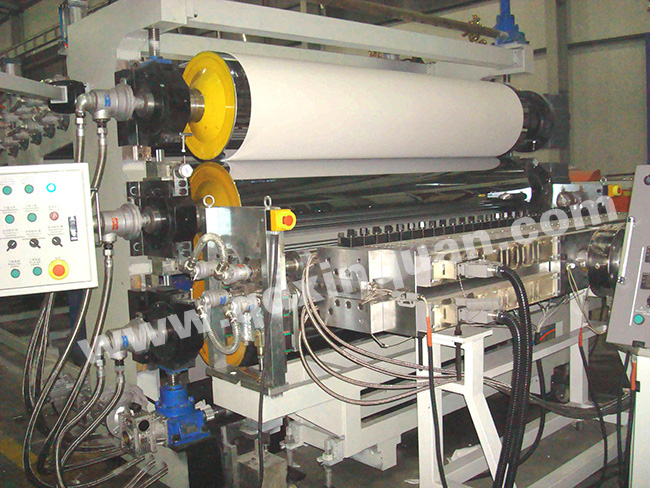 PVC and PVC WPC Free Foaming Decorative Sheet Production Line
1. Equipment Features:
The production line is composed of special twin-screw extruder, extrusion die, vertical three-roller and auxiliary machines. The company provides formula and a full set of process technology. The whole production line has the characteristics of large output, stable extrusion and high foaming ratio.
The extruder is designed as a special screw and screw barrel for PVC and wood-plastic foaming, with an exhaust structure, and the surface of the screw and screw barrel is sprayed with bimetal, which effectively reduces the problem of large wear of the PVC and wood-plastic raw materials on the screw and screw barrel, and makes the extrusion The service life of the machine is greatly improved.
The electrical control system adopts PLC man-machine interface computer control, Siemens liquid crystal display. The operating parameters can be freely defined and displayed on the display.
The mold material is made of high-quality alloy steel 5CrNiMo forgings, and the surface of the inner flow channel is chrome-plated and polished. The mold structure absorbs imported technology, and the inside of the mold cavity is plated with hard chrome and polished to a bright mirror surface. The thickness of the plate is easy to adjust, and there are adjustable bolts on the die lip. When producing plates of different thicknesses, the die lip can be replaced.
2. Main technical parameters
| | | | | |
| --- | --- | --- | --- | --- |
| model | SJSZ80/156 | SJSZ92/188 | SJSZ80/156, SJ65/132 | SJP92/32 |
| Product width mm | 1220 | 1600 | 1600-2050 | 2050 |
| Product thickness mm | 3-20 | 5-30 | 3-20 | 3-20 |
| Maximum extrusion output Kg/h | 350 | 500 | 600 | 450 |
| Main motor power KW | 75 | 110 | 120 | 75 |
3. Application fields of PVC free foam board:
Cabinets, bathrooms and various high-grade furniture boards, building decoration materials, advertising lettering materials, interior decoration materials for cars, trains and ships.
By changing the corresponding formula and operating conditions, the production line can also produce PVC wood-plastic free foaming board. PVC and plant fibers are fully mixed and extruded by a high-efficiency conical twin-screw extruder, which can produce green, anti-corrosion, moisture-proof, moth-proof, not easy to deform, and recyclable wood-plastic boards with the same processing conditions as wood.