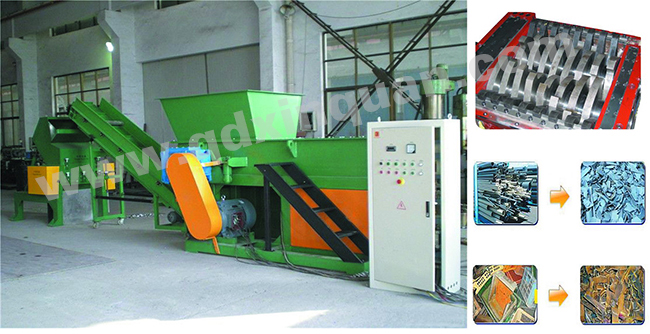 Plastic Shredder
GXS40 series single-shaft shredders are widely used in the crushing and recycling of most waste materials.
model

Power




(kw)

Inlet size




(mm)

Maximum output




(kg/hr)

GXS4080

37

800×1300

1000

GXS40100

45

1000×1300

1500

GXS40120

55

1200×1300

2000

GXS40150

75

1500×1300

2500
Whether it is a large volume of pipes, profiles, blocks or packed and compressed bottle materials, films, chemical fibers or carpets, the GXS40 series single-shaft shredders can be shredded to the appropriate size. This series of single-shaft shredders has a complete range of models, and there are main shafts and auxiliary equipment with different structures to choose from.
 GXS2250 and GXS2260 single-shaft shredders are suitable for all kinds of industrial waste, especially the materials with large volume, strong toughness and high hardness that are difficult to be cut by the shredder.
For example, the headstock (block) produced by the extruder, aluminum cans, thick-walled pipes, rolls of film and clumps of cables, etc.
The low-speed spindle has high cutting force, high output and low energy consumption. The movable knife can be replaced for four times, and it is fastened to the movable knife seat with screws; the fixed knife can be adjusted, and the appropriate distance from the movable knife can still be maintained after wear. The maintenance cycle is long and time-consuming.
This series of single-shaft shredders is especially suitable for recycling waste (unqualified products and leftovers) in the product industry.
model

Power




(kw)

Inlet size




(mm)

Maximum output




(kg/hr)

GXS2250

15

500×790

400

GXS2260

18.5

600×790

600