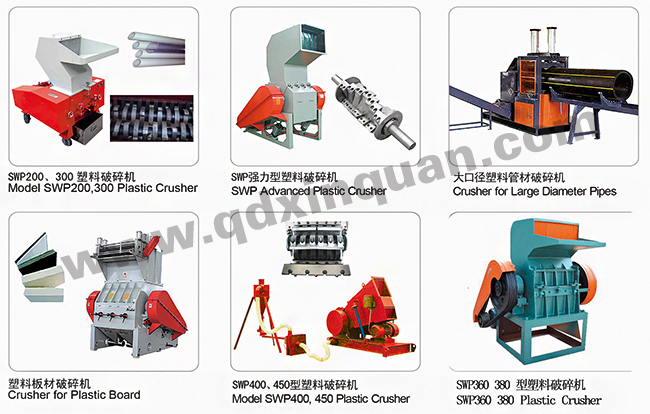 plastic crusher
This series of crushers are mainly used for crushing various plastic plastics and rubbers such as plastic profiles, pipes, rods, threads, films, waste rubber products. The pellets can be directly used for extrusion and injection molding.
SWP-450 plastic crusher is an ideal equipment for recycling large profiles and pipes; its crushing capacity is large, its output is high, its working performance is stable, and it is equipped with an automatic feeding machine, which improves the degree of automation of the machine.
SWP-630 plastic crusher is a special equipment for crushing large plastic hollow containers, bulk head materials and board materials.
Features :
The sound insulation device is adopted, so the noise is small; the movable knife adopts a removable blade, which can be removed and sharpened separately after being dull; it is suitable for crushing various soft, hard and foam plastics.
The main technical parameters:
model

Rotary knife diameter




(mm)

Rotary blade (sheet)

(pcs)

Fixed blade (piece)

(pcs)

Sieve plate aperture




(mm)

Crushing particle size




(mm)

Crushing capacity




(kg)

Power




(kw)

Dimensions




(mm )

Machine weight




(kg)

100

100

2

2

6

2-4

30-50

1.5

560x370x925

160

160

6

2

6–10

2–6

100–150

3

790x490x1175

300

260

260

3

2

6–10

2–6

150–200

4

800x640x1450

300

360

360

3

2

6–10

3–8

350–500

11

1600x1100x 1460

1000

400

400

5

2

6–10

3–8

200–400

11

2200 x 900 x 1800

1500

450

450

9

2

10

3-8

250-400

twenty two

2180×1020×1810

1500